A new micro-sized addition to the eco-friendly Genie product range

Posted: 1st March, 2019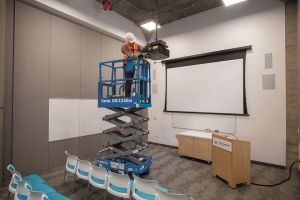 Genie's new "micro-sized" scissor lift, the GS-1330M is soon to be released and UK Genie distributor Workplatform are offering you the chance to secure some early build slots.
This exciting new model from Genie combines a power efficient e-drive system that offers industry leading runtime for full day productivity with impressive dimensions. Measuring 1.4m in length and only 0.78m wide, the GS-1330M can lift up to 227kg to take two people in the extending platform but still with an overall weight of just 885kg.
The 100% electric drive system on the new GS-1330M allows for quiet emission free operation and a longer battery life on a single charge, important for applications where there is significant amount of driving.
See product details for the GS1330M here. For more information and the opportunity to secure an early build slot, please contact the Workplatform sales team.