Levels Above with Genie

Posted: 26th January, 2022
Having worked for the same company for 9 years, Russell Anderson and Neil Blakemore took a leap just under 2 years ago and set up Yorkshire based Levels Above Site Services. It was an easy decision, as the owners of the company they worked for and were particularly close to, decided to sell to a national hire company. Fast forward just over a year and a half and Levels Above is a highly respected and successful rental operation in its own right.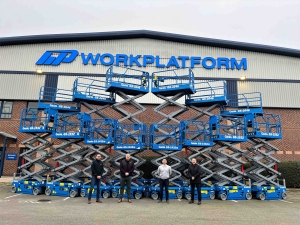 Not wanting to run before they could walk, the company was initially set up as a brokerage. Now, with the level of success they have enjoyed, they have accelerated their plans and purchased their first package of machines. Namely, 4 x Genie GS-1432m E-Drives, 4 x Genie GS-1932 E-Drives, 4 x Genie GS-2646 E-Drives and 2 x Genie GS-3246 E-Drives.
Neil Blakemore of Levels Above says "We decided to go with Genie because it is a proven brand with fantastic market acceptance. The new E-Drive system from Genie is something that we wanted to adopt early on and are very much looking forward to offering this to our customers. When you are starting out in business, you want to give yourself as little to worry about as possible. With the reliability of Genie, coupled with fantastic residual values and the support offered by the Dealer Workplatform, we can spend more time concentrating on running the business"
Jonathan Hull of Workplatform goes on to say "It's always nice to supply a new company with their first package of machines and we are sure that Levels Above will continue to go from strength to strength."
"To say the new venture has exceeded expectations is an understatement" says Russell. "The customers have remained loyal and the hand-picked team that we have assembled has been the real driving force behind our success. That, and the list of key suppliers that we are working with and will continue to work with in the future"
Levels above currently have 10 trusted, passionate and knowledgeable team members and are soon moving into some new premises.