Ashbrook Hire return to Genie Lifts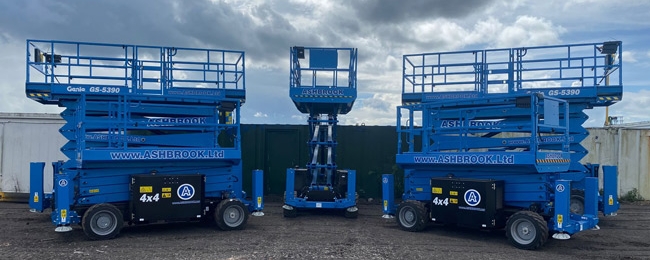 Posted: 9th May, 2023
ASHBROOK Ltd are a plant hire and powered access hire company based in Cheshire. With over 25 years of experience, they have a wealth of knowledge of the hire industry and the needs of customers that it serves.
Mike Ashbrook, Commercial Director for ASHBROOK, picks up the story. 'Our powered access customers come from a wide range of professions, from roofers to tree surgeons, electricians to industrial cleaning companies, event providers to media companies and many more. But what they all have in common is a need for a high quality and reliable machine and Genie deliver on all fronts.'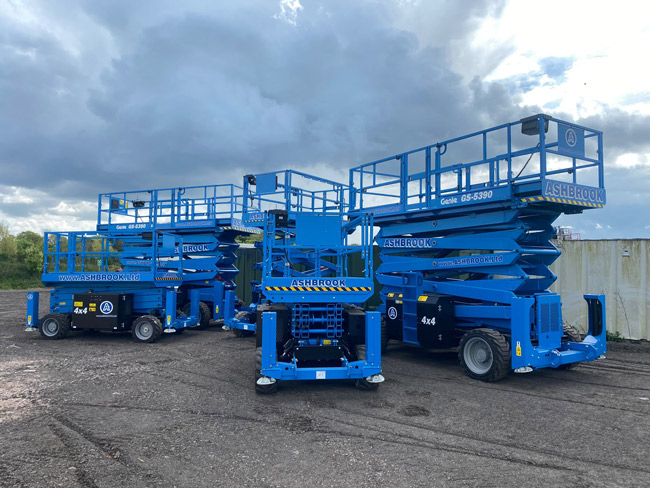 'During 2022 a connection was made with Workplatform Ltd, which rekindled the ASHBROOK excitement about the Genie product; they complement our existing access fleet well. A relationship founded on excellent communication was formed and we have since purchased 23 new Genie scissors and articulating booms with more on the way.'
'The addition of 10 GS53-90RT has been well received by our customers. Plus, familiar favourites such as the Z30/20N and the Z80/60 don't hang around in the yard for long!'
'Initial feedback from customers and staff, on all the machines, has been positive, especially in relation to the build quality of the machines and their smooth operation.'
'Central to everything we do in our business is a focus on quality, reliability, and outstanding customer service, we've found that the relationship with Workplatform Ltd fits very well with this. As well as providing an excellent base product, Workplatform Ltd has worked closely with us to provide familiarisation and technical training for our service team, regarding the new Genie products, and worked with us to ensure maximum reliability and uptime.'
'Concise and accurate communication has also been a real bonus to working with Workplatform Ltd. We've found them to be straight forward and honest to deal with, especially with regards to availability and delivery dates on the new machines. Supply chains for new machinery deliveries have been delayed and problematic in the last few years and having accurate information about new arrivals to the fleet is key to a hire business' success', concludes Mike.
For more information about the ASHBROOK hire fleet visit their website.