Genie's New Micro Scissor Lifts

Posted: 29th October, 2021
Genie's new GS-1432M and GS-1932M Micro Scissors are available from Workplatform now. These scissor lifts are lightweight and compact and, with zero degree inside turning radius, are highly manoeuvrable in tight spaces. Despite their compact footprint, the platform is sized to ensure that two people can work comfortably together.
Powering the new micro scissors are the same brushless, fully sealed and maintenance free AC electric drive motors that are fitted to Genie's E-Drive scissors introduced last November, which deliver industry leading efficiency and a 35% reduction in lifetime maintenance costs.
With Genie's E-Drive, these new micro scissors are four times more efficient than traditional hydraulic drive systems. E-Drive enables the scissor lifts to run 30% longer on a single charge, are quieter than hydraulic drive and are faster to charge. Another benefit of E-Drive is the 70% reduction in hydraulic hoses and fittings.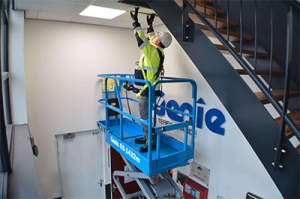 Field tests conducted by Genie show that 95% of operators using a taller and more expensive 8m scissor lift actually stay below 7m.
The GS-1432M has a working height of 6.30m, is only 0.81m wide and weighs around 900kg, a full 30% lighter than comparable standard size scissor lifts and the GS-143M is rated for both indoor and outdoor use.
The GS-1932M weighs around 1179kg but has a working height of 7.55m when working internally or 7.18m working externally.
Both models have a 227kg lift capacity and feature a 0.60m extension deck for improved outreach.
New Genie Micro Scissors are available now and we also have some ex-demos in stock – call us for more information.