Jet Wash Accessory for the Genie SX-135 XC

Posted: 21st October, 2019
Genie has recently launched a new accessory for its SX-135 XC booms, a high powered jet wash.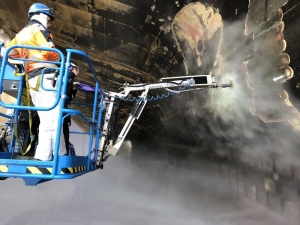 In collaboration with the German manufacturer Falch, the Falch Multi Worker 250 semi-automatic, high pressure tool and water jetting accessory can be fitted to all SX-135 XC Booms. The jet Wash provides water pressure of up to 3,000 bar and a pump power of up to 250 kW per unit and can be installed on the Boom in less than 10 minutes. It features 30 degrees of horizontal and vertical swing via an automatic electric controller and has little to no recoil at all. This allows the machine to be perfect for many applications, such as cleaning and removal of paint, Graffiti, plaster, concrete and corrosion at height.
Genie Vice President of Sales and Marketing, Jacco de Kluijver said: "Genie prides itself in offering purposeful innovations making work faster and easier for end users. By offering customers the means of acquiring a multi worker 250 tool from Falch to equip their Genie SX-135 XC boom lifts, this relationship is a perfect example that opens the door to a broad field of new business opportunities — including the large shipyard market."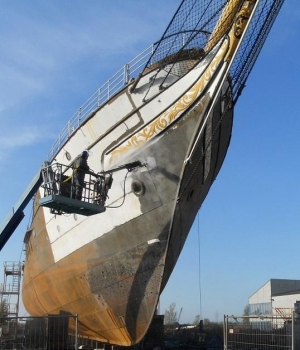 Falch Director of Strategic Projects, Markus Bux added: "We were delighted when we saw the introduction of Genie Xtra Capacity technology, with its increased lift capacity and smooth envelope, making applications with the multi worker 250 possible because it weighs only around 100kg, including the necessary accessories. We are convinced that the combination of both innovations is the future of cleaning at height for Genie customers as well as for ours."
See more information about the Genie SX-135XC here. To enquire about the Falch Muti Worker 250, please speak to a member of the Workplatform sales team.