More Access for Total Hire, Derby

Posted: 3rd February, 2017
UK based rental company Total Hire has purchased a number of Genie scissor and booms lifts, including 19ft, 26ft and 32ft slab electric scissors and 45ft diesel and bi-energy Z45/25 articulated boom lifts from UK Genie dealer, Workplatform.
The company was established in 1999 and now offers a wide range of equipment from seven locations, four in the Derby area and the others in nearby Huthwaite, Ripley and Somercotes. Its product range runs from tools to 60ft booms. Its access line up includes towers, booms scissors and push around lifts.
General manager Carl Tidey said: "Keeping our rental fleet up to date is a top priority for us and this investment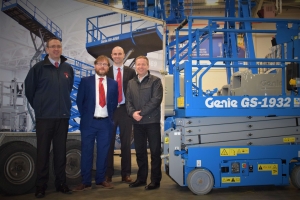 demonstrates our positive outlook for the future. We turn to Workplatform for all our Genie products, they are easy to do business with, reliable and helpful across all their departments".
Jonathan of Workplatform added: "We have been fortunate enough to have been supplying Total Hire with access platforms and material lifts for quite a few years now and this latest order really does demonstrate how well this section of their business is doing."