WORKPLATFORM DELIVERS VERSATILE GENIE® Z™-33/18: AN IDEAL ACQUISITION FOR GREENCROFT BOTTLING

Posted: 3rd November, 2016
As a business which prides itself in incorporating the latest technology and innovations into all aspects of its activities,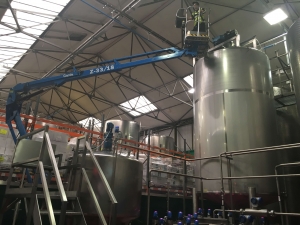 prior to acquiring the Genie Z-33/18 boom lift, both Greencroft Bottling and Lanchester Wines had historically relied on rented machines for maintenance operations – a solution that proved unsatisfactory due to several factors. The main issue being inconsistencies caused by the provision of different machines, with different specifications. "This made it hard for our operators to become familiar with the equipment which often tended to cause delays," says Richard Lewin, Assistant Logistics Manager for Lanchester Wines who maintains the equipment on behalf of Greencroft Bottling. "Given the wide range of jobs that we undertake, it became evident that owning the right machine could work out to be a far more efficient and cost-effective solution."
A professional assessment
When Lanchester Wines approached Workplatform, Tony Campana, Sales Manager, suggested meeting the team to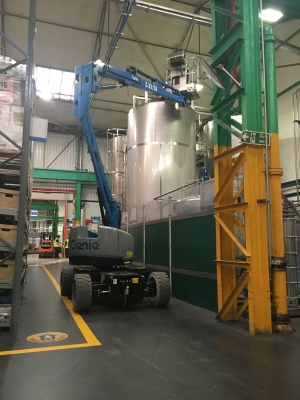 assess their needs in full detail. Housing consumer goods in bonded warehouses, the facilities of both Greencroft Bottling and Lanchester Wines are subject to audits on an ad-hoc basis that means that the slightest anomaly can cause production to be stopped. "This can mean up to 24 hours before we are running again, so any repairs need to be handled immediately," notes Mr.Lewin.
These are businesses where quick, clean, quiet performance and production uptime are vital. At the same time Lanchester Wines needed a simple yet sufficiently powerful unit to assist in the indoor and outdoor refurbishment of a recently acquired facility in nearby Gateshead.
"We were delighted with the sound advice of the Workplatform team," says Mr. Lewin. "Their assessment of our sites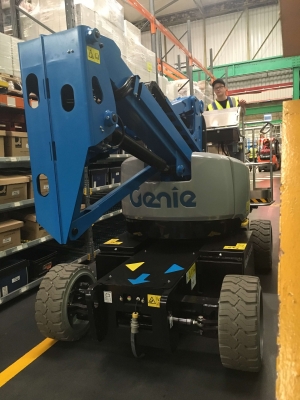 and requirements was very thorough and it was clear that they really knew their business. When they came up with the recommendation of a Genie Z-33/18 boom we were confident that they had our needs covered."
Offering excellent returns on invested capital at the entry level of the electric Genie articulating boom range, the Genie Z-33/18 boom is a simple, robust electric unit powered by an efficient AC drive system providing the ability to perform a full day's work – both indoors and out – on a single battery charge. Further enhancing its versatility, in addition to its reduced weight of 3.640 kg (8,025 lb) – which is nearly 1.500 kg (3,306 lb) lighter than traditional machines in the 12-m (39.4 ft) category, the Genie Z-33/18 lift notably boasts a total occupied floor pressure of only 991 kg/sq m and a low tyre contact pressure of 483 kPa making this unit an ideal solution for applications on fragile indoor surfaces where reduced floor load is paramount, as well as outside duties – even on wet grass or freshly stabilized ground.
Great performance endorsed by operators
Sharing around 50 per cent of its time indoors and out between refurbishment duties near Gateshead, and maintenance tasks at the two businesses' other sites, the company chose to equip its Genie Z-33/18 boom with optional multi-surface non-marking tyres adapted to fragile floors and sensitive outdoor surfaces. Performing routine tank inspections to maintain Greencroft Bottling's AAPlus BRC rating and exceptional levels of quality are among the compact unit's multiple tasks. "Thanks to a tight inside turning radius of 1.9 m (6ft 3in) and a narrow width of just 1.5 m (4 ft 11 in), the Genie Z-33/18 boom has proved to be extremely efficient and manoeuvres well up and down our narrow standard 2-m gangways, easily reaching up and over the top of silo tanks holding substantial quantities of wine," says Mr. Lewin.
In constant use for the past six months "The Genie Z-33/18 boom is so versatile, smooth and simple to operate that our operators love it," notes Mr. Lewin.
Strong relationship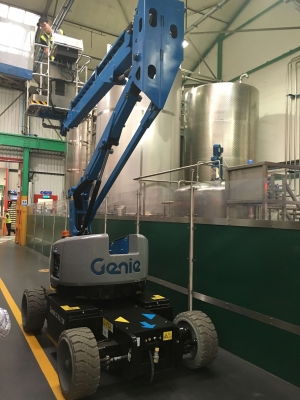 "When you are making financial investments in machinery you have to look at the product, as well as the people that you are buying from. At both Greencroft Bottling and Lanchester Wines, we do not shop for the cheapest price, but the most reliable product, supplier and after sales service," explains Mr. Lewin. "Having said this, in the six months that we have been using the Genie Z-33/18 boom lift it has performed so perfectly and is so well-suited to our needs, that we haven't had a chance to test this out. The Genie Z-33/18 boom is indeed a great Genie product in a class of its own, but when the need for support does eventually occur we have every faith in the Workplatform team to support us rapidly."
Following the purchase of its Genie Z33/18 boom lift, Greencroft Bottling has since acquired two electric Genie scissors lifts – a Genie GS™-1932 scissor lift and Genie GS™-2646 scissor lift provided by authorized Genie distributor Workplatform Ltd. based south of Derby in the East Midlands, UK.
Greencroft Bottling Company
Established in 2003, Greencroft Bottling is now one of the largest wine bottlers in Europe bottling upwards of 75,000

bottles per hour, operating several lines at its factory in County Durham. The company's investment in its plants over the last couple of years means it is now one of the most modern bottling plants in Europe.
Further details can be found at www.greencroftbottling.com.
Lanchester Wines
Supplying the highest quality wines and spirits nationwide for over 35 years, Lanchester Wines is committed to sourcing the best wines from all over the world, supplying its customers with exceptional products and service to match. Lanchester Wines incorporates Lanchester Wine Cellars – wine importers, shippers and bonded warehouse keepers, and Lanchester Wine Sales – wholesale of wine, beer, spirits and other alcoholic drinks to major customers.
In the last 24 months, the business has invested in new warehouse space including the acquisition of the former WaverleyTBS site in nearby Gateshead, providing the company with further warehouse space, complete with an industrial beer fridge. This warehousing is in addition to Lanchester's existing 450,000 sq. ft. warehouse including Greencroft and its two other Tyneside warehouses (in Blaydon 100,000 sq. ft. and Felling 230,000 sq. ft.) providing the business with a total of 920,000 sq feet of bonded warehouse space – all equipped with 24-hour security.
The wider Lanchester group of companies, which comprises seven businesses, has invested over £8m in the production of renewable energy for its sites, making Lanchester Wines the greenest liquor business in the world. As a result, the company was recently shortlisted in the 2016 Guardian Sustainable Business Awards and named a finalist in Business in the Community's Environmental Leadership Awards 2016. Further details about Lanchester Wines can be found at www.lanchesterwines.co.uk