AUTHORISED GENIE® DEALER WORKPLATFORM TAKES DELIVERY OF ITS 10,000TH GENIE® MACHINE

Posted: 22nd June, 2022
Genie® dealer Workplatform Ltd, which has been in business for 14 years, celebrated a milestone earlier this year with the purchase of its 10,000th Genie machine — a GS™-1932 E-Drive scissor lift.
Workplatform hit its 10,000 lifts milestone 12 years after becoming a Genie dealer. The UK dealer's partnership with Genie began in 2010, with Workplatform initially selling only material lifts and push around personnel lifts before becoming a full-line dealer a few years later.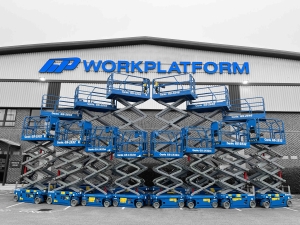 "I suppose it was always going to be highly likely that the 10,000th unit we purchased from Genie was going to be one of our volume products and, along with SLA material lifts, the GS-1932 is one of our most popular models," says Jonathan Hull, owner of Workplatform Ltd. "We chose to partner with Genie because Genie, as a brand, is recognized all over the world for having an extensive model range, excellent build quality, reliability, serviceability, ease of use and the lowest overall total cost of ownership. By concentrating our efforts with one brand, it means that the level of service and support we can give our customers is second to none."
Workplatform's 10,000th lift didn't stick around for long. The lift has already been sold to Manton Forklifts, a new entrant into the powered access sector.
R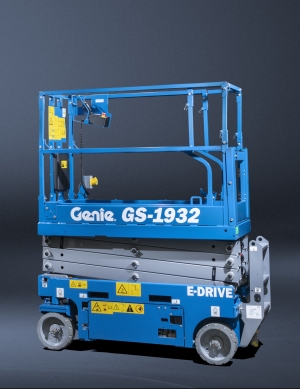 yan Izzard, Depot Manager of Manton Forklifts, says their decision to purchase this particular Genie lift model was based on reputation, and recommendations from Workplatform: "When Manton Forklifts decided to purchase an Access fleet, we decided to look around several manufacturers. For us, Genie stood out as a good option for our hire fleet, due to quality for price and aftersales support that comes with the products. Workplatform suggested the E-Drive models to us, and after taking into account that there is a smaller hydraulic system therefore reducing the risk of a hydraulic breakdown, it proved to be a better choice for our hire fleet."
Genie GS-1932 slab scissor lifts deliver quiet electric operation for indoor and outdoor applications in tight spaces on firm, level surfaces. Contributing to the machine's popularity are features such as front-wheel drive, a zero-degree inside turning radius, a large platform workspace with a 0.91 m (36 in) roll-out platform extension, swing-out component trays for easy access, and the ability to easily pass through standard-sized single or double doors. The GS-1932 is available with hydraulic drive or electric drive. The Genie AC E-Drive configuration delivers increased runtime, reduced maintenance costs and industry-leading performance.
"These are exciting times with Genie and there are quite a few new products that have been launched that are going down very well with our customers. None more so than the Genie Z-45 FE boom lift," Hull says. "It looks fantastic, delivers performance to back up its looks, and is clean and relatively inexpensive to run."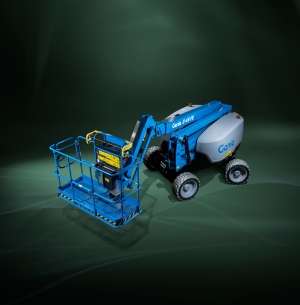 The Genie Z®-45 FE articulating boom lift, which launched in February 2020, is a popular lift in Genie's no-compromises hybrid lineup. Genie FE hybrid technology delivers the rough terrain performance of a diesel boom, along with the flexibility to work in all-electric mode for quiet, no-emissions productivity, or in hybrid mode. In all electric mode, FE booms can work a full day on a single charge. In hybrid mode, they can work a full week on a single tank of fuel and prevent downtime associated with charging thanks to an intelligent control system that charges the batteries while the machine works.