New Directors for Workplatform

Posted: 10th May, 2022
Workplatform, the Genie distributor for the UK, specialising in the sale of both new and used Genie access platforms and material lifts has promoted three key members to its board.
Workplatform are centrally located in the UK and in addition to machine sales, offer service contracts and engineering support through its own in-house team of factory trained engineers. Offering OEM parts, bespoke funding packages and being an approved IPAF Training Centre, Workplatform are able to fully support all customers in every aspect of machine ownership.
Paul Harbey has been promoted to Sales Director following his accomplishments as Sales Manager. Paul joined Workplatform in 2010 and prior to that spent 10 years at what was then Genie UK. Paul says of his promotion: "I'm delighted with this appointment; it has been a pleasure working with the excellent team at Workplatform. I genuinely don't know where the last 12 years have gone"
Adam Smith joined Workplatform in 2011 as Service Manager and has been promoted to Service Director. An expert in his field, Adam has 20 years' experience working with Genie products, some of which was with the manufacturer themselves. Adam is responsible for managing one of the most highly trained and capable group of engineers in the industry and says: "Workplatform is driven by doing a good job for our customers and that is something that I can easily relate to"
Last but not least Dean Brooks has been awarded the title of Operations Director. Dean joined Workplatform in 2015 and prior to that worked for Genie for 14 years in sales and operational roles, both in the UK and at Genie's European Distribution Centre in the Netherlands. "We have got a great team here at Workplatform" says Dean "I'm looking forward to playing my part in the continued growth of the business, working with our business partners and continuing the development our team members".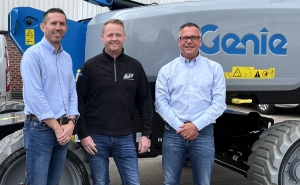 Workplatform founder Jonathan Hull will continue to play an active role in the company and says "I'm honoured to have worked with these people for the last 20 years or so and I am thrilled to be able to reward them for all of their hard work and dedication.  These appointments will ensure that Workplatform continue to go from strength to strength".