RT Performance With Low Or Zero Emission – Z45 FE

Posted: 10th March, 2021
With two modes of operation – All electric or Hybrid – the new Genie Z-45 FE boom really is that "2 in 1" solution adapted to indoor as well as outdoor applications, even where on-site electric power is not available. In all electric mode the Z-45 FE provides the ability to work a full shift on a single battery charge. In Hybrid mode it offers more than one week of run time on a single tank of diesel. While operating in Hybrid mode the Genie Z-45 FE utilizes a stage 5 Kubota 24.8 hp generator to maintain the state of charge of the batteries.
With enhanced drive performance and simplified maintenance, the new Genie Z-45 FE boasts highly efficient AC drive motors that provide similar torque as hydraulic drive motors while using 30-40% less energy.
Full time 4WD, electronic traction management, full time active oscillating axle and a drive speed of up to 4.00 mph make this Hybrid Genie model the ultimate rough terrain machine within this highly popular working height.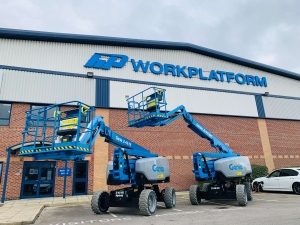 To increase performance, decrease calibration time and improve the overall productivity, this new Genie FE also boasts the ability to do zero-load field calibration which means that in most cases it can be calibrated without loading the platform with weights.
To adhere to specific low noise or low emissions requirements on sensitive job sites, this new model boasts zero noise operation, ideal for use in urban or night time environments and zero emissions operation for use in indoor applications and emission restricted areas.
The Genie Z-45 FE, at only 6559kg, also offers the advantage of being lightweight and it comes equipped as standard with foamed-filled non-marking, all-terrain tires which complement the machines outdoor and indoor versatility. See Genie Z45 FE product details here. 
Genie offers another variant in this "green" sector – the all electric Genie Z-45 DC 4WD. Built on the same chassis as the Z-45 FE model the all electric model offers the same robust 4WD performance and working envelope but relies totally on battery power.
These two new models from Genie offer the ultimate combination of exceptional 4WD performance with environmentally sound efficiency.