We've got you covered – annual service plans
Posted: 2nd September, 2019
These 13 x new Genie GS-2646's electric scissors are on their way to meet up with 14 other's previously delivered to one of our valued customers. All 27 x units are also supplied with an annual service plan taking care of all the mandatory 6 monthly thorough examinations (LOLER) and also all the routine servicing for the entire term. Workplatform employ some of the most experienced Genie engineers in the industry and with fully stocked service vehicles carrying only OEM parts, Workplatforms first time fix rate is second to none.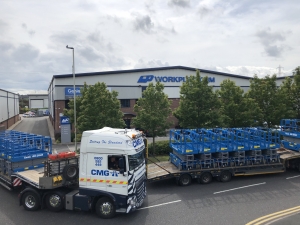 The Genie GS-2646 is a very popular model due to its 454kg lift capacity, 9.80m working height and relatively compact dimensions. Like all Genie units the GS-2646 comes compatible with the Genie Lift Connect Telematics which allows owners and managers to monitor and manage their aerial fleet remotely.
For more information on the GS-2646 and or the Genie Lift Connect Telematics, please speak to a member of the sales team.