Reach Higher With The New Genie GS-4655

Posted: 21st March, 2019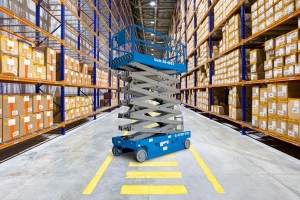 The latest edition to Genie's electric slab scissor lift range is the new GS-4655…a compact unit with a maximum indoor working height of 16.02m and a maximum outdoor working height of 10.70m, both from a chassis that is only 1.40m wide. The GS-4655 also has a class leading horizontal outreach of 1.22m with the standard extension deck fully rolled out and offers a 350kg lift capacity for up to 3 people and their tools and materials.
Equipped with the latest generation of fully sealed AC electric drive motors which maximise productivity with increased battery run time, the new GS-4655 is as equally at home in a warehouse down narrow aisle as it is on a construction site.
For more information on the new GS-4655 or to secure your future build slot, please speak to the sales team at Workplatform.