In "Dreamland" with the Genie ZX135/70

Posted: 5th March, 2019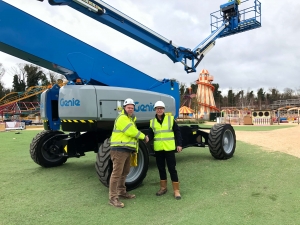 When Margate's historic theme park "Dreamland" contacted UK Genie dealer Workplatform for a working at height solution for Britain's oldest surviving seaside pleasure park, it was the Genie ZX135/70 that ticked all the boxes.
With a maximum working height of 43.15m and a horizontal reach of up to 21.26m, the Genie ZX135/70 can reach every part of this famous pleasure park which dates back to the heady days of the 1920's. Following a £25m revamp in 2015 and a "significant additional investment" in 2017, Dreamland is now back in business and providing a fun packed day for families whilst also contributing to Margate's steady revival.
The rides at Dreamland include: Air Race, Dreamcatcher and Dreamland Drop which is the ultimate thrill ride, an adrenaline fuelled "shoot and drop" tower which rotates to give 360 degree views of Dreamland and Margate, and now if you look closely, a brand new Genie ZX135/70 articulating boom.
It's not just "thrill seekers" that are catered for at Dreamland, they also have rides for "the aficionados, the romantics" and "the small funsters"
Andrew Gall who is Head of Technical and Facilities at Dreamland says "The Genie ZX135/70 was chosen because of its smooth drive, impressive reach and compact footprint". Andrew also goes on to say "Workplatform were chosen to supply the Genie ZX135/70 because they are Genie's authorised dealer and are real specialists when it comes to the products. Their staff are very knowledgeable about the products and are very easy to deal with."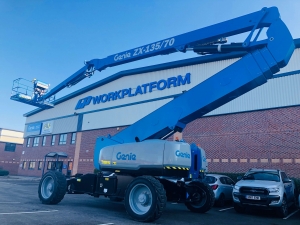 Workplatform Ltd supply both new and refurbished Genie scissors and Genie articulating booms nationwide. In addition, Workplatform are an approved IPAF training centre, offer bespoke funding packages and have their own in-house parts and service departments.