Genie names Arjun Mirdha as new Chief Commercial Officer

Posted: 19th October, 2017
Genie Grows its Senior Team
Arjun Mirdha will be pulling together many departments within the organization into one vision and is tasked with expanding the genie® brand globally.
Mirdha has been appointed to the post of Genie Chief Commercial Officer for the aerial work platforms segment of the Terex business, and steps into this position as a newly created role. He will have global responsibility for all aspects of the commercial side of the Terex AWP business for the Genie® brand, including sales; commercial operations; marketing; parts; services and lifecycle solutions. Mirdha will be based in Redmond, Washington, and assumes the role effective immediately.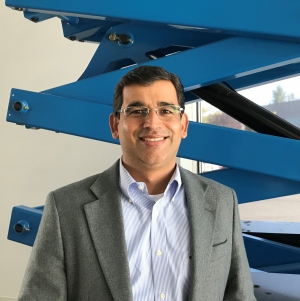 "The Genie brand has a leading reputation and position in the global marketplace, and in this new role, Arjun's goal will be to grow our organization and opportunities in all the industries we serve," says Matt Fearon, Genie President, Terex AWP. "As Chief Commercial Officer, Arjun will have an immediate focus on addressing our customers' needs, including implementing unified solutions that expand our commitment to be easier to do business with. His experience in the industry will play a vital role in developing deeper customer relationships and improving our commercial operations capability worldwide."
Before joining Terex AWP, Mirdha spent 21 years at JCB, most recently as President and CEO of the company's North America business. He has extensive work experience in Europe, Asia and the United States. Mirdha has an MBA, is a CPA and previously served as a board member of the Association of Equipment Manufacturing (AEM).
"I am pleased to be joining the Genie team," says Mirdha. "With a strong presence and outstanding reputation in the aerial and rental industries, the Genie brand is well-known worldwide. I look forward to continuing the company's legacy of bringing innovative products to the marketplace, growing market share and leading our future customer solutions initiatives."