Baker Plant creates a recipe for success

Posted: 28th March, 2017
 Z45/25J RT are a recipe for success at Baker Plant
Baker Plant Hire, based in Sleaford, Lincolnshire, has cooked up a winning recipe for its customers. Working closely with Genie dealer Workplatform over the last nine and a half years. Baker adds to his recipe again with new Genie Z-45/25' s and two Genie GS-2632 electric scissor lifts.
"We have recently purchased another package of equipment from Workplatform's Tony Campana, two new Z45/25J RT 4wd's that went straight out to an electrical contractor in Barnsley and a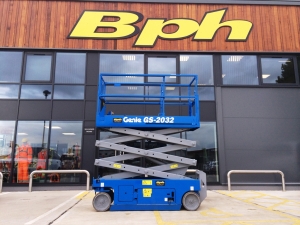 couple of GS-2632-which went to a food factory in Scunthorpe." Says Paul Layton Hire Manager at Baker Plant Hire and Reg Baker's (owner and founder) right-hand man. Paul continues, "We haven't seen the Z-45's since and don't expect to for a while yet, it's such a useful piece of kit and invaluable to the electrical contractors that are using them. If you are in the hire industry you need Genie Z-45's in your fleet, lots of them!".
The Beginning
Entrepreneur, Reg Baker, who also owns his own construction business called Ambrey Baker Construction, decided to open his first plant hire depot in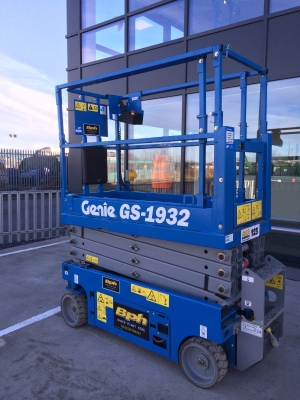 2001 after renting equipment himself for many years.  "As a rental customer, all I wanted was to feel that I was getting a good deal whilst also receiving a good service. That's where the vision for my company started, I wanted to offer competitive prices that included great customer support."
Reg saw an opportunity when a national plant hire company closed its business in the Sleaford area. He knew from his construction business contacts that there was a demand for a good local plant hire company. All he needed was the right products to achieve success. That's when Workplatform with its Genie products stepped in.
"I was looking for a machine supplier that had the same ethos as me in terms of customer support, and Workplatform did not disappoint. Whenever I need an access platform, I know they will do their utmost to get it to me when I need it, which is important when you're trying to manage the needs of many customers'. The important thing for me is that the interaction doesn't stop at the sale. Workplatform's service support is second to none and this is crucial if we are to help our customers deliver their projects on time and on budget, the way we see it is that if we don't achieve this, we are not doing what we set out to do."
From a starting point of two machines (a Genie GS1932 and an old Genie lift product called a V-lift), Reg's fleet now sits
at over 400 machines and is used across the whole of the UK with some even turning up in Europe this month to work on a cold store building project. Since his humble beginnings, he has never looked back and continues to invest in Genie products through Workplatform.
Speaking about why he returns to Workplatform for more machines, Reg says: "The key to our success is definitely in the fact that we only invest in high-quality brands that are renowned for their productivity, safety, and reliability – Genie being one of those brands. They're well known in the industry and people trust them."
Solution Driven with Invention
Reg's businesses are looking bright. Not only are they aiming to open another depot, they are also on track to launch a new accessory for one of the core
areas of their construction business (ceiling panels and insulation installation). The prototype was created last year with a local engineering firm Micari Engineering. Reg a solution driven man, developed this product to solve the problem of improving how difficult it is to install ceiling and insulation panels. A 'Panel Support Frame', was then created, making the installation process easier and safer, and the good news is it's now available for hire. It is possible to use in all Genie slab scissors (depending on the weight of the panel to be installed). Weighing 45Kgs, with a working load limit of 150kg and as with all panel installation projects requires 2 men to for the installation.
"I'm always looking for new ways to help our customers," says Reg, "And this new installation accessory will make their job much easier".
Community Man
Reg is also a firm believer in giving back to the local community and supports many local initiatives and clubs, including Sleaford football club, Sleaford cricket club, and the local sidecar and motocross racing amongst others.
Great Customer
Commenting on Reg's loyalty to Workplatform over the years Jonathan Hull remarked "We've been working with Reg since Workplatform began nine and a half years ago, he is one of our original customers. Both our businesses have evolved in tandem and we have seen first-hand that his professionalism and dedication to his customers is second to none. We are delighted that he has continued to work with Workplatform and that the Genie products help keep up his high standards of quality."